Anecdotes
King Crimson's Mellotrons
In March 1999, Robert Fripp put his Mellotrons up for auction.
None were sold during this sale, Fripp having accepted none of the offers offered.
Mellotron Mark II #113
Used on the In the Court of the Crimson King and Thrak albums
Mellotron Mark II #232
Used on the In the Wake of Poseidon album
Mellotron M400 #211
Used on Islands, Larks 'Tongue in Aspic and Starless albums
Mellotron M400 #354
Used on the Islands, Larks 'Tongue in Aspic and Starless albums.
When Robert Fripp dissolved King Crimson in 1974, John Wetton joined Uriah Heep with this Mellotron, which would be acquired again by Fripp years later.
Mellotron M400 #1199
Used on the Red album
Black M400 acquired in 1974
Photos: Robert Cervero
John Lennon and his Mellotron
The Beatles first discovered the Mellotron during a visit to the IBC studios in London on August 9, 1965.
Totally enthusiastic, John Lennon ordered a Mark II which was delivered to him on August 16, 1965. Several improvised sessions with this Mellotron were recorded in his house in Weybridge.
Mike Oldfield and the Mellotron
During an auction of equipment from the Abbey Road studios on October 15 and 16, 1980, Mike Oldfield acquired for £1,000 the Mellotron FX Console which was used in particular on The White Album by The Beatles.
There is no record of recordings of this Mellotron by Oldfield.
In 1993, Streetly Electronics bought this SFX. It was put up for auction at Christie's Rock Memorabilia in 1994 but was not sold.
Streetly then contacts Paul McCartney who will eventually become the owner of this Mellotron.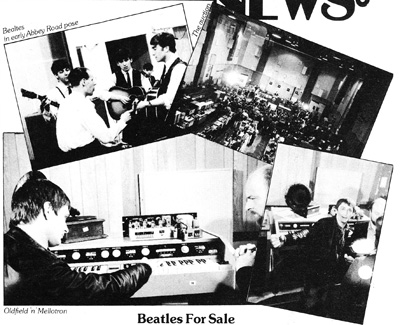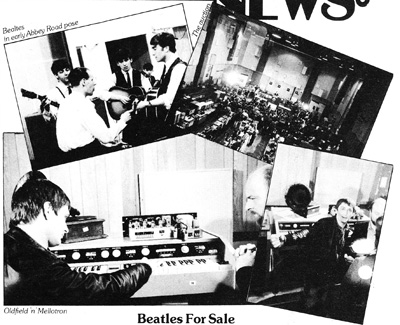 Meetings with John Bradley and Martin Smith (Streetly Electronics)
April 1997 : First meeting with Martin and John in Paris to restore my first M400
Photos by Mathieu Roger, in his apartment
August 1997: First trip to Staffordshire
August 2005: Second trip to Staffordshire at Martin Smith's, to retrieve my M300, after a complete restoration